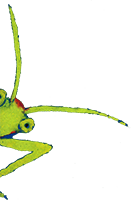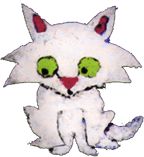 Hello! Hello! Hello!
My site is chockful of puzzles, crafts, and book activities.
Enjoy!

What's new…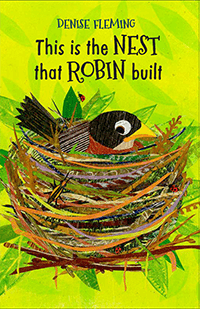 Hello!
My upcoming book, This Is the Nest That Robin Built, will be released on March 6th—pre-order your copy from your favorite bookseller!
Take a look at my amazing new teaching guides, by the wonderful Dianna Burt! They will give educators and caregivers ideas (discussion and activities) on ways to use the books to teach multiple concepts and they include the applicaple Common Core standards. We will be adding guides gradually, with the eventual goal of offering guides for all of my books.
We would really like to start including more samples of my book activities, pictures from my presentations, and pictures of my books being used in the classroom, so if you have photos we would love to share them on the website! They can be emailed to indigo@denisefleming.com.
I will be teaching COLOR, LIGHT, LINE, AND TEXTURE HANDS-ON WORKSHOP with Ashley Wolff at Highlights again this spring. You can visit Highlights' website to get more information on future workshops.
In the Tall, Tall Grass has been selected for Maine's Raising Readers, an incredible "statewide program that gives books—free of charge—to all Maine children between the ages of birth and five".
Reviews:

This Is the Nest That Robin Built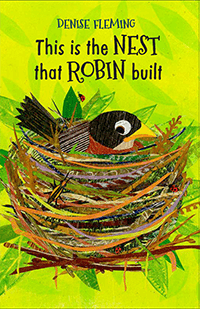 This Is the Nest That Robin Built will receive a Horn Book starred review in the March/April 2018 issue.
Like a fresh spring breeze, Fleming's cumulative tale celebrates a favorite symbol of the season, a robin's nest. Beginning with a squirrel "who trimmed the twigs, not too big,/ that anchor the nest that Robin built," Fleming (5 Little Ducks) introduces several animals that provide the materials the bird needs to craft the resting spot for her "eggs, brittle and blue." The verse is saturated with alliteration and internal rhymes ("This is the mouse/ who gathered the weeds, dotted with seeds,/ that bind the mud, soft not soupy,/ that plasters the straw, rough and tough..."), and the collage illustrations gain bold, mottled textures from the varied printmaking techniques Fleming used to treat the paper before assembling them. When the nestlings, "tufted and pink," finally arrive, a foldout spread reveals all of the work that went into the nest; small vignettes show Robin combining twigs, string, straw, mud, and more to put it together. Fleming's nature scenes pulse with electric shades of green, highlighting the hive of activity that precedes the arrival of a newborn (or three)." –Publisher's Weekly
"A mother robin builds a nest with a little help from nearby creatures.
It starts with the squirrel, "who trimmed the twigs, not too big, / that anchor the nest that Robin built." Then the dog brings string, the horse shares straw, the pig mixes mud, and so on. It's a riff on the classic rhyme "This Is the House That Jack Built," but Fleming keeps the text fresh with additional rhyming adjectives. Whether "not too big," "long and strong," or "soft not soupy," each new item Robin receives has its own specifications. Thus, the cumulative story expertly reinforces narrative comprehension while also building vocabulary. Fleming combines her signature printmaking techniques with collage to make beautifully textured illustrations filled with natural tones and repeated patterns. The creatures are mostly to scale, some fitting within the book and some extending beyond its pages. Though the animals change with each page turn, readers will enjoy spotting the tiny ladybugs hidden in each illustration. The narrow portrait trim size expands with a final gatefold that flips the structure of the verse to conclude with the new, "rumpled and ruffled" fledglings flying away—a satisfying conclusion.
An avian revision of a classic rhyme that soars." –Kirkus
"A robin's nest is fabricated with a little help from a squirrel and other familiar animals. Each creature contributes a key ingredient to make a sturdy abode for the bird in which to lay her eggs. When the eggs hatch they quickly grow into nestlings, "tuffed and pink," rapidly turning into fledglings ready to spread their wings. The proud mama watches as her young ones fly for the first time. Richly hued illustrations are mixed media done using a printing technique and collage. They are expressive, textured, and show various perspectives. Vertically oriented pages support the illustrations, calling to mind the height of a tree, and are accompanied by a cumulative, alliterative, and rhyming text done in the familiar cadence of "The House That Jack Built." VERDICT A handsome choice to welcome spring and new life that will read aloud well with a group or in an intimate setting." –School Library Journal