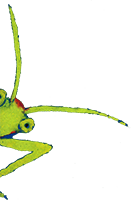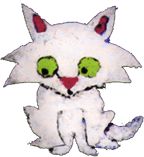 Hello! Hello! Hello!
My site is chockful of puzzles, crafts, and book activities.
Enjoy!

Welcome to my website!
The recent revisions to my site may still have some wrinkles that we need to iron out, so if you run into any issues, can't find an activity that used to be on the site, or have any suggestions, please let Indigo know. Thank you for your patience!
I just got back from the 10th Annual First Class Pre-K Conference in Mobile, AL. I have some time off from traveling (until March), which will allow me to focus on manuscripts and to experiment with new techniques. March 12th, I will be at the Read Aloud Delaware Conference in Dover, DE, and March 22nd-23rd, I will be at the Delaware City Schools in Delaware, OH
.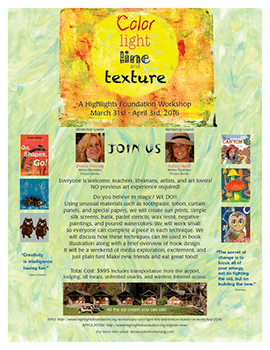 March 31st - April 3rd, Ashley Wolff and I will be leading Color, Light, Line, and Texture: A Highlights Foundation Workshop in Pennsylvania.
Using unusual materials such as toothpaste, lotion, curtain panels, and special papers, we will create sun prints, simple silk screens, batik, pastel stencils, wax resist, negative paintings, and poured watercolors. We will discuss how these techniques can be used in book illustration along with a brief overview of book design.
It will be a weekend of media exploration, excitement, and just plain fun!
February's Featured Title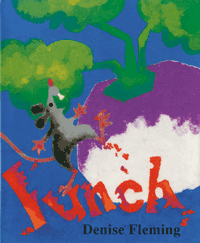 Lunch
ALSC (ALA) Notable Children's Book, 1992
School Library Journal Best Book of the Year, 1992
New York Public Library's List of One Hundred Picture Books Everyone Should Know, 1997
Children's Choices for 1992 (IRA and CBC project)
"Again using her unique medium—brightly colored pulp applied to a screen to make 'handmade paper in which the stenciled images have become a part of the paper itself'—the author of Count! creates a lively introduction to the colors: a simple story about a mouse who eats nine fruits and vegetables whose juices leave patches of stain on the appealing little creature, who tracks them across the clean, white pages and then exhibits them for identification in the last illustration. With large areas of brilliant, subtly modulated color and handsome compositions incorporating boldface type, a beautifully crafted book that's sure to delight young audiences." —Kirkus Reviews, STARRED REVIEW
Download Free Posters!